by Chris Walden
April 22, 2015 marks the 45 annual Earth Day. Begun in 1970, this even is a focus on environmental concerns around the world. Because everybody's working for the weekend, a lot of the celebrations are happening a little early, with many activities happening over this weekend.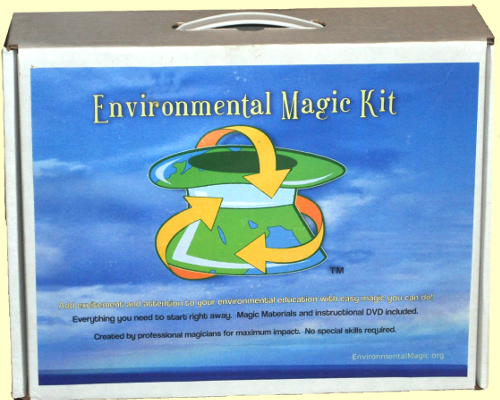 I will be performing Environmental Magic as part of the Austin Earth Day celebration at 3:40 PM on the Kid's stage. (For some reason they chose to use my Facebook picture with zombies behind me.) The show will feature some items from the Environmental Magic Kit, as well as some of my personal routines about environmental responsibility. Shows like this happen for me on a couple of levels. First, there is the performance, sharing important messages about simple actions and ideas to manage waste, consumption and pollution. Beyond that, I'm showing educators and others who need to share this information the impact magic can have on these presentations. I'm looking forward to the new connections that I'll make.
We've come a long way since 1970. I remember, as a kid, that there were many people who thought nothing of throwing their fast food trash out the window of the car as they drove along the highway. I remember watching people discarding garbage on the ground as they walked along. Now, that sort of behavior is not accepted. Of course, we still have a ways to go, as we learn how to have a thriving society of humans in harmony with other areas of nature. Science and technology are helping, as we discover new, less impactful approaches to packaging and doing what we need to do. History is also helpful, as we rediscover methods (like taking your own container to the store to buy bulk items) that use less resource and create less waste.
My involvement in this project for the last (Is it really?) 23 years has personally affected my awareness and habits. I hope that my performance today plants some seeds and sparks some new thinking, both for young people and those who teach them.
Come see me if you can! I'll post photos if I can.
Chris Walden